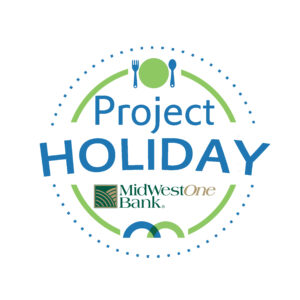 2016 Project Holiday Food Distribution – December 19-22
Over 4,000 individuals will be enjoying holiday meals this month due to the generosity of our community and the efforts of volunteers and staff at The Crisis Center of Johnson County.
The need for food in our community continues to grow and so do the prices at the supermarket. A $25 donation will purchase a complete holiday meal for a local family in need. Clients receive a turkey, chicken, or other entre', sides, vegetables, and a variety of other grocery items needed to prepare a holiday feast. We also offer diverse options by purchasing ethnically varied ingredients for all families to create a traditional holiday meal.
To donate to Project Holiday and purchase a holiday meal(s) click HERE
To sign up to volunteer to distribute meals in Iowa City click HERE
To sign up to volunteer to distribute meals in Coralville click HERE
Project Holiday Dates for Distribution
The Crisis Center, Iowa City – 1121 Gilbert Ct., Iowa City
Monday, December 19th – 12 – 4:30pm
Tuesday, December 20th – 12 – 7 pm
Wednesday, December 21st – 12 pm – 4:30 pm
Thursday, December 22nd – 9:30 am – 4:30pm
Coralville Ecumenical Food Pantry – 203 1st St., Coralville
Tuesday, December 20th 3pm – 6pm
North Liberty Community Pantry – 89 N. Jones Blvd., North Liberty
Wednesday, December 21st 10am – 12pm
Project Holiday Tag Sites
MidWestOne Bank locations
Akar
Beadology
Discerning Eye
Dulcinea
Earl May
Gloria Dei Lutheran Church ELCA
Haunted Bookshop
Herteen & Stocker
Hy-Vee
Iowa Book and Supply
Iowa City Public Library
Johnson County Human Resources
McDonald Optical
Prarie Light Books
R.S.V.P.
Revival
Textiles
Underground Printing
Hands Jewelers
Home Ec
Iowa Gym Nest
Om Gifts
University Camera
White Rabbit
Domby
New Pioneer Coop
New Pioneer Corporate
Johnson County Senior Center
St. Wenceslaus Church
Leepfrog
St Paul's Lutheran Chapel & UC
College of Pharmacy – Office of Research Grants and Contracts
Congregational UCC
Coralville Rec. Center
Hills Bank
Hy-Vee
Liberty Pharmacy
Newman Catholic Student Center
Old Capitol Town Center
Our Redeemer Lutheran Church
Pleasant Valley
Solon Public Library
St. Thomas More Church
Two Rivers Bank
Uptown Bills Small Mall
US Bank
US Bank
Fareway
First Baptist Church
First Christian Church
First Presbyterian Church
Hy-Vee
Iowa City Fitness
Iowa City Parks and Rec (Mercer)
St. Patrick's Catholic Church
Starbucks
Stuff Etc.
Wal-Mart
Iowa City Parks and Rec (Robert A. Lee)
Mercy Hospital
Iowa Gym Nest
Coral Ridge Mall
Lutheran Campus Ministry
Buzz Salon
Pagliais
Solon UMC