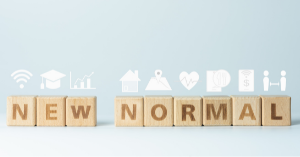 By Hannah Green, Crisis Intervention Operations Coordinator
May is Mental Health Awareness Month. This is a multi-part blog series about taking care of your mental health.
Everyone is adjusting to a new normal. Whether it is venturing out to shop for groceries in person or not wearing a mask while outside with other vaccinated people, things are changing. In the first part of this series we talked about cultivating resilience and channeling self-compassion; as we start to accept invites and even go on vacations, these practices will be even more difficult and therefore just as important to practice for our overall mental health.
Each time you break your pandemic hibernation, make sure to set your expectations before going out. Small things that had no effect on you pre-pandemic might be more difficult to process for awhile. Perhaps music in the background is making it harder to concentrate or you're not sure you can be around people for four hours. By focusing on things you can do rather than things the situation could become, you can set realistic, attainable goals. Goals that you can achieve include staying for a specified period of time, choosing to stay quiet or change conversations if a topic makes you uncomfortable, or even saying no to plans when your week is too busy.
In order to best weather this huge transition, the ability to say "no" is one of the most important tools we have. Give yourself a break when the outside world becomes too demanding. When you go from seeing only your cat and the mail carrier to going back to the office five days a week, your body, mind, and spirit will need to adjust. Don't forget to be careful with yourself; you'd want a friend to do the same.
Speaking of friends, reach out for support. The habits and methods of communication that we invested in during the pandemic are all still valid, and relying on them will help ease the transition out of such a confined year. In fact, while everyone is venturing out to patios, grocery stores, and even live music, you might want to stay inside, and that is okay. One of the most important parts of the transition from quarantine to "quarantine lite" is listening to yourself. The CDC may say it's okay to be unmasked and outside within six feet of other vaccinated people, but that doesn't mean you need to be comfortable with it. You may be the only one in your group who puts your mask back on after a few bites of pizza and that is okay. And if it's not you, but it's a friend who wants to be more cautious, simply accepting their choice of safety level is the perfect thing to do. Everyone is at a different level of comfort as we all come back to the world we have been missing for over a year. Let's do it with acceptance and patience, not only for others but for ourselves as well.
And remember, if things feel too overwhelming, the trained crisis counselors at CommUnity are here to help. You can reach out to our 24/7 crisis phone or text lines, or if you need to speak to someone in person, our 24/7 Mobile Crisis team.
Call/Text: 1-855-325-4296
Chat: IowaCrisisChat.org
Mobile Crisis Outreach: Call 1-855-800-1239 and ask to speak with Mobile Crisis.