Sunday, September 11 from 5:30pm to 8:00pm
Walk to Remember a Life Lost
Join us for The Out of the Darkness walk, happening on Sunday, September 11 to remember those lost to suicide, support families and friends, and raise awareness.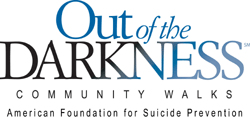 The walk will be held at Terry Trueblood Recreation Area on Sand Road in Iowa City. Registration starts at 5 p.m. and the walk is from 6 to 8 p.m..
The Out of the Darkness walk is hosted by the Johnson County Suicide Prevention Coalition and is part of Suicide Prevention Week efforts every year. Funds raised go to the American Foundation of Suicide Prevention for research and programming and are used locally to support suicide survivors.
You are invited to join The Crisis Center's team! Visit the AFSP online registration site and select The Crisis Center as your team.
For more information about our team or the walk in general, please contact our Interim Director of Crisis Intervention Services, Timothy Kelly, at (319) 351-2726 ext. 111 or by email at timothy.kelly@jccrisiscenter.org.
Volunteers are needed to help with a variety of tasks before, during, and after the walk. Visit the sign-up page to see available shifts and sign up.