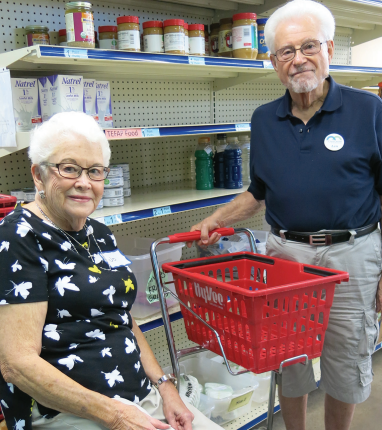 When Len and Jo Roberts began volunteering at The Crisis Center in 1999, they wanted to help make a positive impact on the community. They had no idea what an incredible impact the experience would have on them.
The newly retired couple had just moved back to Johnson County and didn't have to search long for an organization to get involved with.
"We picked The Crisis Center because that's where my dad volunteered," Len said. "After we were here for a while, though, we began to really see the need."
Len and Jo spend their time helping people in The Crisis Center Food Bank.
"It's something we really enjoy doing. There are just so many positive rewards," said Len. "The people, both the clients and the other volunteers, mean a lot to us. The clients have become almost friends. We recognize about half of them and always go out to greet them."
Len and Jo are more than just volunteers, though. As they've watched The Crisis Center grow over the years, so has their passion for the organization. Not long after they began giving their time to the food bank, they began to also make significant financial gifts to the organization as members of the Mission Circle, The Crisis Center's sustaining, monthly giving club. As need has increased, so has their gift.
"We know our gift is being utilized effectively," Len said. "We believe giving is important and when we give to The Crisis Center, we can see what these resources are being used for."
Len and Jo say they trust The Crisis Center staff to use their gift for programming and have watched as programs have changed to accommodate more clients, as well as empower them. They've observed the organization's strategies change and the consideration of clients grow within those strategies. They feel confident that their gift is being used to help the people they've grown to care about over the years.
And they've continued to make their support of The Crisis Center a family tradition, started so many years ago by Len's own father.
"We have four grown children who are all supportive of The Crisis Center," said Len. "We supported them through college and we've always believed it's important for them to see our support of the community. Now, they are supportive, as well."